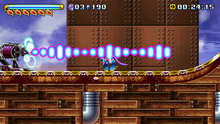 Stunlocking is a process by which certain Enemies, Bosses and Stage Hazards repeatedly attack the Player before they have a chance to regain control. Under normal circumstances, the Player is invulnerable for a brief moment after being hit by an attack, but certain Enemies, Bosses and Stage Hazards can override this rule with special attacks that hits the Player multiple times in a row. Milla is the most vulnerable to being defeated from stunlocking, since she only has 4 Health Petals.
Stunlock List
This is a list of every Enemy, Attack and Stage Hazard in that can inflict Stunlock on the Player so far.
Enemies
Stage Hazards
Freedom Planet
Freedom Planet 2
Community content is available under
CC-BY-SA
unless otherwise noted.