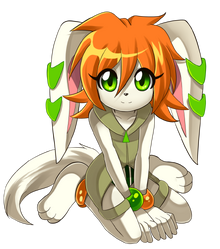 The following page is a collection of quotes said by Milla Basset.
Freedom Planet
In-Game
On Character Select
Idling
"What should I do?"
"Is someone staring at me?"
"Ummmmmmmmm . . . hehe."
Stage Clear
"Yay!"
"That was fun!"
"I'm a Super Dog!"
Continuing from Game Over
Cutscene
Freedom Planet 2
In-Game
Idling
"I don't sense anything yet."
"Hello?"
Reviving
"I have to keep going!"
"I don't go down that easy!"
"That hurts."
"Aww... that wasn't very nice!"
Stage Clear
Before every victory quote, Milla barks.
"Mission Complete!"
"I'm a Super Dog!" "
"Nice!"
"That was fun!"
Hub World
"Hi! Welcome to el Laboratorio de Milla! By the awesome power of SCIENCE, I make potions to help out on our missions!"
— Introduction to her potion shop.
Cutscene
"

Detective Milla

is on the case, too!"
— Adding to Askal's introduction while standing on his shoulders.
Community content is available under
CC-BY-SA
unless otherwise noted.